Happy New Year!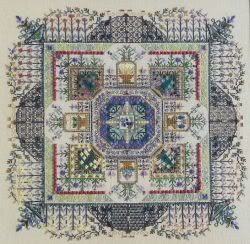 Happy New Year to you! I hope your year is starting off well, and that you've had plenty to smile about these past four days of 2008.
At the top of this post is a stitching project that I hope to do someday. As odd as this may sound to you, I actually dreamed of this gorgeous piece last night. I'm sure you stitchers will understand! I dreamed I purchased the kit and was beginning the project. It's Chatelaine's Convent's Herbal Garden, and I first saw it displayed in person a little over four years ago when the CATS festival was actually local. Pictures just don't do it justice, and it's unbelievable in person. Perhaps a goal of mine should be to purchase the kit by the end of this year, but then again that seems like a very silly goal. I don't consider a purchase a goal at all. So we'll scratch that one!
Again, Happy New Year to you!
Labels: holidays, inspiration stitching, miscellaneous fluff, stitching